Hi Yasemin,
I've helped you before with a similar problem. Here are my questions:
- Are you running medm on the same computer as the IOC, or on a different computer?
- Is the iptables firewall turned off on both machines?
- In medm right click on the screen, select "PV Info" and left click on the white widget. It will tell you the name of the EPICS PV it is looking for.
- In the IOC type "dbl". That will list the names of the records in that IOC. Make sure the name agrees with the one in medm.
- You previously had a problem with lots of medm messages "Message: Identical process variable names on multiple servers"

I told you:
******************
That is because your computer must have 2 network cards. You need to define the following environment variables.
EPICS_CA_AUTO_ADDR_LIST=NO
EPICS_CA_ADDR_LIST=92.xxx.xxx.255
You need to replace 92.xxx.xxx.255 with the broadcast address of that network.
If medm and the IOC are running on the same machine, and you don't need to access any other EPICS PVs on the network for now, then you can use:
EPICS_CA_ADDR_LIST=localhost
******************
Did you follow my suggestions? What are those environment variables on both the IOC computer and the medm computer?
Mark
From: tech-talk-bounces@aps.anl.gov [mailto:tech-talk-bounces@aps.anl.gov] On Behalf Of Yasemin Barutçu
Sent: Tuesday, April 09, 2013 1:14 AM
To: tech-talk@aps.anl.gov
Subject: About MEDM
O.S. : Opensuse
Epics base version : 3.14.12.3
Medm version : 3.1.7
I started to learn MEDM and I just draw something on the screen.
My questions are;

1. White screen displayed instead of the monitor objects when using execute mode. As you can see below image: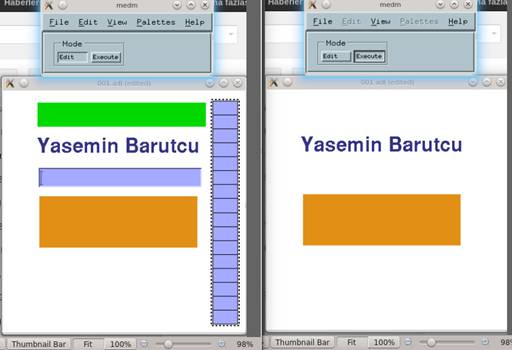 2. I can't change the PV Limits of the monitor objects. But on terminal I don't get any error about it. Just bip sound come to me.
Regards,
Yasemin Barutçu