Hi Kay
I see what you mean and it looks like you're right in that it cannot be done in runtime.
To explain my problem:
I have a list of 40 Harps and each Harp has 48 current channels (waveform). In our current CSS we physically create a 'tabbed' control with all the 40 harps (one harp per tab). Each tab has a xygraph control. So when a user selects a specific harp from the group control, we just make that tab visible etc..

What I want is only 1 xygraph control that gets the PV name from the 'group' control selected..(see example screen where I have 3 Harps as example and each Harp has a X and Y graph)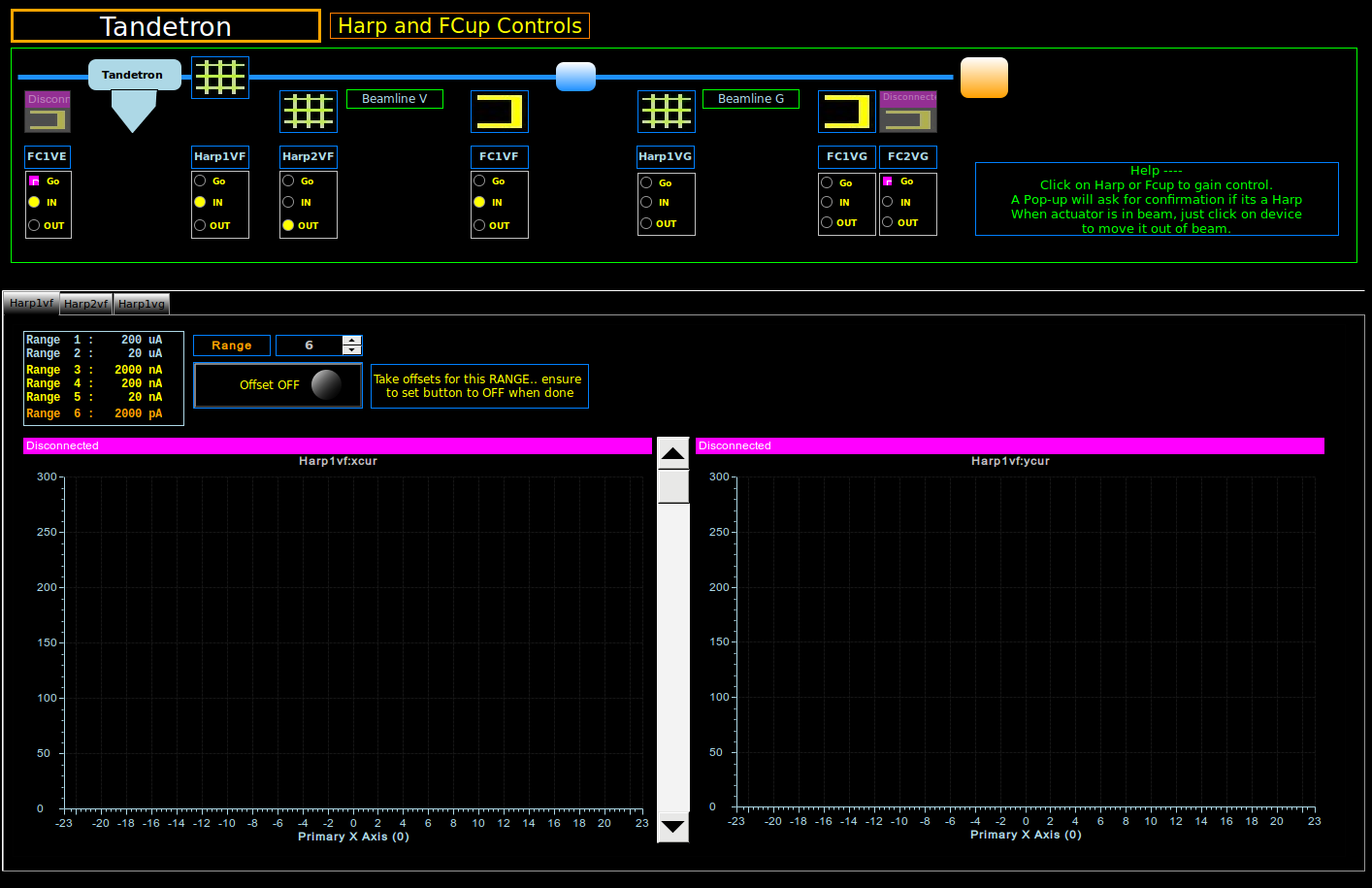 As a point of interest is there a way to instantiate all my Harps at startup?
I have a separate PVTable with all my PV's in it and saved as 'pvs.sav'.
Can I somehow call this in my code at startup so that all relevant PV's are created ?

I hope my explanation make sense
regards
Amien


On 02/08/2017 18:05, Kasemir, Kay wrote:


Hi:




That "pv_name" that you're setting on the BOY XYGraph is basically a macro.

Later, in the Trace 0 Y PV you can then add "$(pv_name)".




When you later, at runtime, update that macro, it's not changing the Y PV used by the trace.




What you'd actually want to change is the "trace_0_y_pv" property.


But I'm not sure the BOY XYGraph supports changing the PVs of a trace at runtime.




-Kay




From: tech-talk-bounces@aps.anl.gov <tech-talk-bounces@aps.anl.gov> on behalf of Amien Crombie <acrombie@tlabs.ac.za>


Sent:

Wednesday, August 02, 2017 7:21 AM

To:

EPICS Tech-Talk

Subject:

XYgraph pv_name

 

Hi




I have a script as follows:

link = display.getWidget("linko")
child = link.getChild("xgraph")    # get the xygraph on linko

# here I get the 2 PV's i passed to the script


val= PVUtil.getString(pvs[0])   # this PV is used to switch to the desired opi
dal= PVUtil.getString(pvs[1])   # this is the PV i need

if val=="1.0":
    child.setPropertyValue("pv_name", dal)   # here the correct PV is displayed
    child.setPropertyValue("title",dal)

else:

    # do nothing




So when I call the script, everything works except the xygraph displays no trace. If I do a "PV info" when CSS is running on the graph, it actually shows the graph values.


It looks like the xygraph is not updating the trace at all.

Amien