EPICS Collaboration Meeting Dinner - Exeter College, The University of Oxford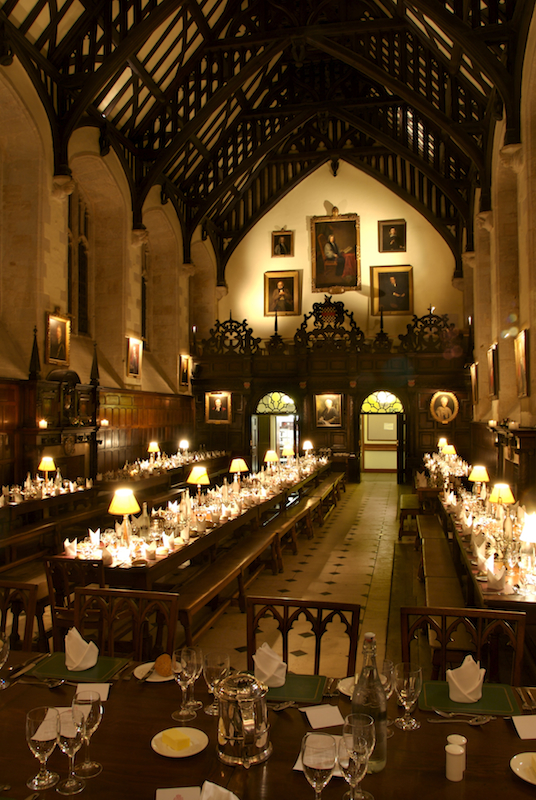 On Thursday 2nd May, the meeting will conclude early. Buses will depart from Diamond Light Source at 17:00 to transport those attending the dinner to Oxford. There will be approximately one hour to walk around Oxford, with a drinks reception at 19:00 in Exeter College, followed by dinner at 20:00 in the college dining hall.
Founded in 1314 by the Bishop of Exeter, Walter de Stapeldon, Exeter College is the fourth oldest College in the University of Oxford and boasts many celebrated past students. J.R.R. Tolkien was an undergraduate there, as were William Morris and Edward Burne Jones. Sir Roger Bannister, Alan Bennett, Philip Pullman and Martin Amis also studied there. Exeter served as a film location for parts of the 2007 film The Golden Compass, based on Pullman's novel Northern Lights. The 2008 re-make of Brideshead Revisited features Exeter and the well-known, fictitious Inspector Morse collapsed in the front quad of the College.
Exeter College has a proud history of catering at a very high level for functions of varying sizes and the Dining Hall with its long, polished, wooden tables, dating back to 1618, provides an historic setting for banquets.


The menu will be available to view here soon.
A Conference Dinner ticket is available to purchase during the registration process at a cost of £25.

Additional dinner tickets can be organised. Please contact the EPICS 2013 conference team should you wish to purchase any further tickets.
Map of Oxford City Centre showing Exeter College
Illustrated Map of Exeter College
Sightseeing in Oxford
Prior to the Conference Dinner, there will be chance to explore the beautiful city of Oxford. Here are links to some ideas to make the most of your visit.